We see the hope and potential in every young person
Our Blog
What's new in our community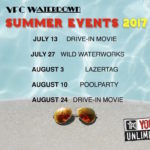 Looking for some fun things to do this summer?! We would love for you to join us on these adventures this summer! All grade 8-12 students are welcome! For more information please call 905-690-9639 (ask for Marcel or Josie), email info@yfcwaterdown.com or drop by the Youth Centre! We hope to see you there!
ALL Jr. High's are welcome to join as at the Youth Centre every Friday for Chill Zone! Time: 7:00pm – 9:00pm For more info contact the Youth Centre. Call: 905-690-9639      Email Scott Davis: scott.d@yfcwaterdown.com
Subscribe To Our Mailing List
Receive updates about news and upcoming events.
Contact Us
YFC/Youth Unlimited Waterdown 273 Parkside Drive, Waterdown, ON, L8B 0Y9 Tel: 905-690-9639 Email: info@yfcwaterdown.com
Send us a quick message